pattern eXpress
®
Denture Base Resin, Autopolymer
Denture Base Resin, Autopolymer. Acrylic resin for the manufacture of removable or fixed dentures by using the pouring technique.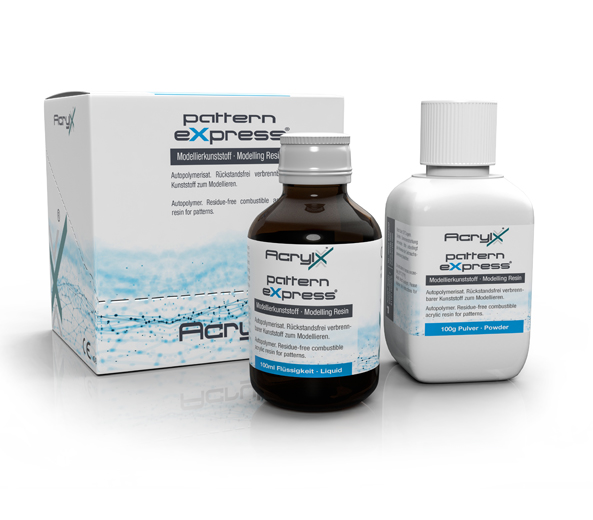 Indications
Completion of framework dentures
Casting of complete dentures
partial or total relinings (indirect method)
Additions and repairs
Product features
universal use
comfortable processing time
very good flow ability
mucous membrane compatible
physiological shades and absolute color stability
Cadmium free
aluated and certified biocompatibility
---
Mixing ratio:
10g Pulver mit 7g Flüssigkeit
Verarbeitungszeiten:
Anquellphase: ca. 30 sek
Gießphase: ca. 3 min
Plastisch-modellierfähige Phase: ca. 3 min
Polymerisation:
Die Polymerisation erfolgt unter einem Druck von 2-3 bar und einer Wassertemperatur von 45°C für ca. 15 min.
Jetzt NEU:
Die pattern eXpress® Station. Eine praktische Arbeitsstation zur sicheren Aufbewahrung und Anwendung des Kunststoffes.
Als Sonderzubehör erhältlich!
Klassifikation gemäß MPRL 93/42/EWG Anhang IX, Klasse IIa für Modellationsarbeiten im direkten Verfahren (intraorale Anwendung).