Xthetic
®

denture fx

Intense Colors-Set

Resin for individual color characterization of full and partial dentures. Compatible to all common PMMA-based denture materials.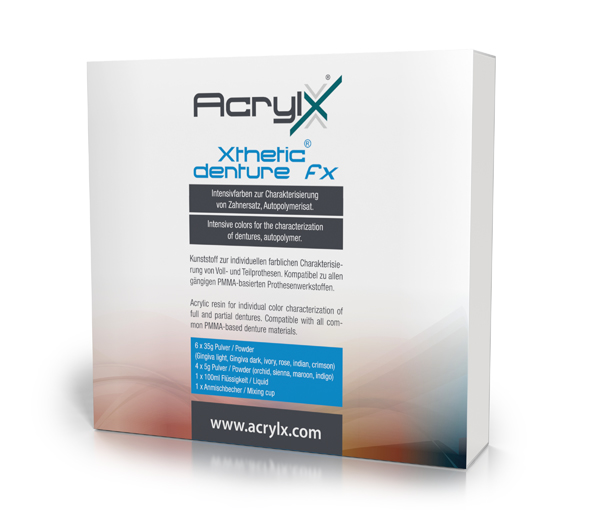 Indications
Komplettierung von Modellgussprothesen
Herstellung von Totalprothesen im Gießverfahren
partielle oder totale Unterfütterung (Indirekte Anwendung)
Ergänzungen und Reparaturen
Eigenschaften
sehr gute Fließfähigkeit, trotz verringertem Monomeranteil
dadurch optimale Schleimhautverträglichkeit, da weniger Restmonomer
minimale Schrumpfung
homogene Oberfläche, sehr geringe Plaqueanfälligkeit
einfache Ausarbeit- und Polierbarkeit
auch hervorragend für Implantatarbeiten geeignet
---
Lieferformen:
Pulver: 5g, 35g, 100g (nur Gingiva light und dark)
Flüssigkeit: 100ml
Das Set beinhaltet je 5g orchid, sienna, maroon und indigo sowie je 35g ivory, rose, indian, crimson, gingiva light, gingiva dark und 100ml Modellierflüssigkeit.
Farben:
Das Material ist erhältlich in Ivory, Rose, Indian, Crimson, Orchid, Sienna, Maroon und Indigo sowie den Gingiva Farben light und dark.
Hinweis:
Medizinprodukt. Klassifikation gemäß DIN EN ISO 20795-1, Typ 2 Klasse 1 und gemäß MPRL 93/42/EWG Anhang IX, Klasse IIa für herausnehmbaren und für festsitzenden Zahnersatz.