LumiX
®

Gel und Paste

Modelling Resin for Patterns, light-curing

Modelling Resin for Patterns, light-curing. Gel- or paste-like composite, burns without residue.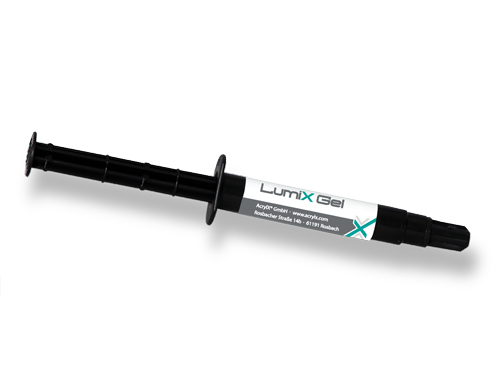 Indications
Combined Restorations
Modellation of telescopic or conus crowns (primary and secondary)
Modellation of individual attachments
Modellation of core build-ups
Implantology
Modellation of implant abutments, implant bars and implant superstructures
making transfer or insertion guides
Positioning and fixation of implant parts
fixed and removable prosthdontics
Modellation of crowns and bridges
Modellation of Marylandbridges, inlays and onlays
Modellation of framework extensions
Other Applications
Modellation of understructures for copy millings
Transfer- and bite contol splints
direct, intraoral core build-up
intraoral fixation
Product features
ready-to-use material
universal use
the Gel is instandly stable, but thixotropic
the Paste can be kneaded and modeled with a spatula
long processing time
short polymerization time
high dimensional stability
low shrinkage
high fitting accuracy
very good behavior when grinding
burns completely without residue
---
Kombi Technik
Modellation von Teleskop- oder Konuskronen (primär und sekundär)
Modellation von individuellen Geschieben
Gestaltung von Kunststoffstümpfen
Implantologie
Modellation von Implantat-Abutments, Implantatstegen und Suprakonstruktionen
Herstellung von Übertragungs- und Fixierschlüsseln
Verblockung oder Fixierung von Implantatteilen
Festsitzender und herausnehmbarer Zahnersatz
Modellation von Kronen und Brücken
Modellation von Adhäsivbrücken, Inlays und Onlays
Modellation von Modellgusserweiterungen
Sonstige Anwendungen
Modellation von Gerüsten für Kopierfräsungen
Übertragungs- und Bisskontrollschienen
direkte Stumpfaufbauten im Mund
intraorale Verblockung
---
Delivery forms - Gel:
3g syringe, 3 application tips
3x3g Set, 9 application tips
Verarbeitungszeiten:
Anquellphase: ca. 30 sek
Gießphase: ca. 3 min
Plastisch-modellierfähige Phase: ca. 3 min
Polymerisation:
Die Polymerisation erfolgt unter einem Druck von 2-3 bar und einer Wassertemperatur von 45°C für ca. 15 min.
Lieferformen Paste:
30g Dose
Farben:
Das Material ist erhältlich in rot und blau.
Hinweis:
Medizinprodukt. Klassifikation gemäß MPRL 93/42/EWG Anhang IX, Klasse IIa für Modellationsarbeiten im direkten Verfahren (intraorale Anwendung).